Disclaimer: the following has nothing to do with weddings or photography and everything to do with something tasty!
I've made no secret about how much I've grown to love Avocado this year, so much so that I've swapped my cheese and crackers (almost) daily snack for avocado and crackers. It's the perfect food really, and even comes with its own bowl :) Now anything I hear about or see on a menu that contains avocado immediately grabs my attention. This weekend a friend mentioned having just made a chicken salad with avocado that she found on Pinterest and my interest was piqued – I found and made it myself this morning with what I had on hand and it was so delicious I want to share it here and write it down for myself so I remember the simple recipe in the future:
*Bonus (in my opinion): it's mayo-free!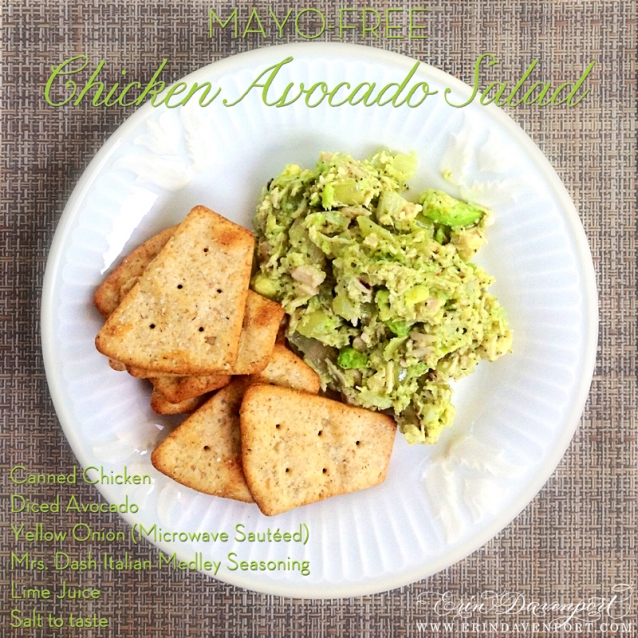 As you can see in the image, the ingredients are few. Just canned chicken (shredded rotisserie would be delicious), diced avocado – the most important ingredient in my book, diced yellow onion which I sautéed in the microwave for time's sake, Mrs. Dash Italian Medley seasoning – again working with what I had on hand, lime juice and salt! I enjoyed mine with my favorite cracker for avocado alone, Kashi Pita Crisps which I find at SuperTarget.
Next time I'll definitely make a bigger batch! Let me know if you try it – and if you do, enjoy!
P.S. – if you're on Pinterest and we're not following each other yet, let's! Find me on Pinterest as erindavenport.