What is Beachbody on Demand?
In short, the Netflix of Fitness! Every Beachbody program, eating plan, workout calendar (and more) in one place, online, for you to stream/view from any device. Even better? One yearly price allows you to access every program, which includes the popular ones like 21 Day Fix, Insanity, P90X, P90X3, Country Heat, Turbofire, PiYo, Body Beast, and more, along with any future program that's released as well. You can stream the workouts anytime, anywhere.
Instead of using DVDs, now I can simply pop open my laptop or bring up the workouts on my phone or tablet and stream them that way. This is so much better than purchasing each program separately like I did in the past, and so much simpler for travel! You can also access Beachbody on Demand on a growing list of devices like AppleTV, Roku, Amazon FireTV and ChromeCast.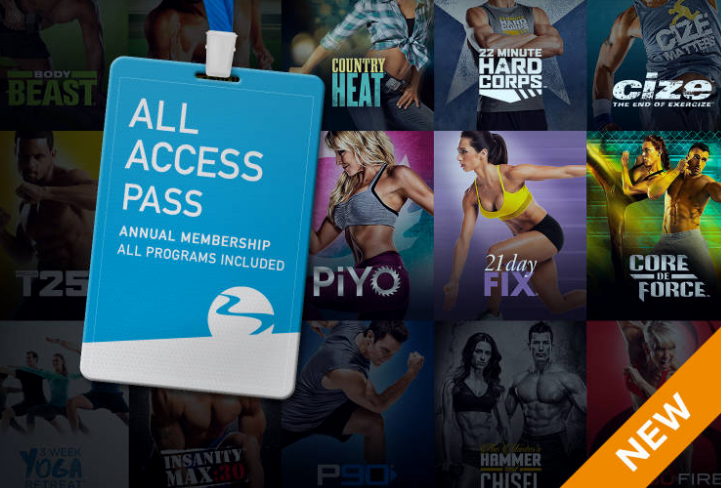 Each fitness program through Beachbody on Demand (or BOD for short) includes a calendar of workouts that lays out what to do when. No need to wonder what workout to do each day or what sequence to do them in, these programs have been expertly designed and it's all laid out for you! Each program has a nutrition guide you can download, some include tracking sheets (just depends on the program) and you also have me to help walk you through the program to make sure you are getting the results that you want. This isn't about just starting and completing one program, it's about starting your journey to your best health and fitness and then moving through what will be stages of your journey as well as entering into a lifestyle of sound nutrition and fitness habits.
I love this option to use Beachbody on Demand because it gives you flexibility to move between programs and freedom to be creative with your routine.  But the most important part of this whole thing is the SUPPORT! Sure, anyone can just buy a program . . . but we see the most people getting results when they have our community of support around them helping them to get those results! That's where the magic truly happens!
BOD Exclusive Content
Even beyond access to every program, BOD also has a growing library of exclusive content just for On Demand members. There are full additional programs not available on DVD and extra workouts led by both super trainers and certified LIVE trainers who instruct in their local areas. There's even an entire segment of the site dedicated specifically to yoga called beachbody yoga studio. 
Challenge du Jour
Challenge yourself everyday with a brand new workout selected by Beachbody experts following a weekly schedule of areas of focus. Some people prefer how this mixes up their routine while still giving them structure and they get to experience lots of different trainers and programs!
 FIXATE Cooking Show
Autumn Calabrese the creator of 21 Day Fix, 21 Day Fix Extreme, and co-creator of Hammer & Chisel collaborates with her chef brother Bobby to bring us Portion Control (Portion Fix/colored container system) approved delicious recipes! Available only on Beachbody on Demand.
How Much Does the BOD All Access Pass cost?
There are a few different BOD All Access price points.
First, I want to talk about the All Access Pass that includes Shakeology. If you have no idea what Shakeology is, it's a super nutrient-dense supplement made to be used as smoothie/shake. I've been using it every day since 2015 and expect I will continue for years to come! When it comes to supplements, this is the one I believe in the most. Instead of me explaining how beneficial Shakeology is, check out these quick videos:
The Beachbody on Demand All Access Challenge Pack includes 12 months access to the online library of workouts, meal plans, calendars, cooking show FIXATE and your first month of Shakeology for $160. This is definitely the best value with a savings over $115! You'll be enrolled for monthly Auto-Ship orders of Shakeology after that at a reduced shipping cost unless you choose to delay your shipments or order a la cart. In addition to having access to the streaming workouts and Shakeology, you'll also receive the Portion Fix system – a 7 piece portion control colored container set, eating guide, large blue container, and a Shakeology shaker cup. This system taught me a sustainable way to eat where I didn't feel deprived and still saw incredible results! After the first 12 months of your BOD membership your subscription automatically renews at $99 for the next 12 months.
The other option is a Beachbody on Demand annual ($99), semi-annual ($59), or quarterly ($39) subscription by itself – the quarterly option includes a 14-day free trial. In my opinion though, the Annual All Access Challenge Pack which includes Shakeology and Portion Fix is the smartest buy since it's been proven that having Shakeology as a resource on this healthy journey results in less cravings, more weight loss, and overall people feeling even more healthy! The Challenge Pack and Shakeology both come with a 30-Day Money-Back Guarantee as well, so giving yourself the chance to try Shakeology and have the Portion Fix containers ALONG WITH a year access to hundreds of streaming workouts at such a great value is my best recommendation ?
Remember, too, that if you go to the gym on a regular basis you'll no longer have the cost of the gym membership or gas to get to the gym. If you're one of those people, chances are you'll be saving quite a bit of money by switching to Beachbody All Access in the long run. However, if you want to still go to the gym to work out, you can always stream the workouts on your phone there if you'd like!
How Can I Purchase the BOD All Access Pass?
If you DON'T already have a Team Beachbody account or a Coach or if I'm your Coach, just click on the links below.
Doing so will automatically make me your Coach if we aren't already connected and I'll be here to help you through whatever program you choose to start (and of course I'll gladly help you choose and can offer suggestions based on your history/preferences)!
If you do already have a Team Beachbody account, email me at erinfitflourish@gmail.com and I'll give you further instructions.
If you already have Beachbody On Demand and I'm your Coach, you can adjust your membership to the Annual or Semi-Annual membership by clicking here:
How Soon Will I Have Access After Purchasing?
You will have access to all the workouts within 24-48 hours after purchasing.
I'm so excited about the new Beachbody All Access pass because now it allows the people I coach to commit to making a long-term lifestyle change, not just a temporary one.
With this pass and my commitment to you as your Coach, there's no question that you're on your way to improving your health and life! If you have any questions, again, you can email me at erinfitflourish@gmail.com or connect through the contact form here on the site.
Cheers to you and your health!